And Then, There Were Four!
Our "twin" trolleys, Harlee and Charlee, were brought into the Old Urban Trolley family in 2010 – three years after I embarked on this incredible journey. After scouring the market, I found two units in Detroit. I decided to bring my father, Harley Terry, on this adventure trip with me to check them out. While I had honestly only planned to purchase only one trolley, I knew immediately upon seeing those "twins" that I was taking home two! So, I purchased the two trolleys and had them shipped to Oklahoma.
Over the years, the "twins" have been tremendously popular, and have been enjoyed by so many families, tour groups, wedding parties, and more. We have been incredibly blessed to have spent so much time with our guests on Harlee, Charlee, Okie, Miss Lucy, and our new bus, JOYJOY. I consider every guest that spends time with us – for whatever occasion – a part of the Old Urban Trolley family, and I am thankful for every one of you!
That said, the time has come to let one of our trolleys go. Our business has been thriving beyond our wildest dreams, but with that comes a sacrifice of time. Our grandchildren are growing like weeds, and my parents are enjoying every moment of great-grand-parenting. I do not want to miss out on making memories with my parents, children, and grandchildren, so I have decided it is time to say goodbye to a trolley. The difficult goodbye went to Harlee. Another city has purchased the Harlee trolley to bring smiles, laughter, and joy to their town gatherings and events, which I love! I am so glad to know that Harlee will continue to make sweet memories with many families to come. They are keeping the name Harlee, so if you see him somewhere here in Oklahoma, you will know where he came from!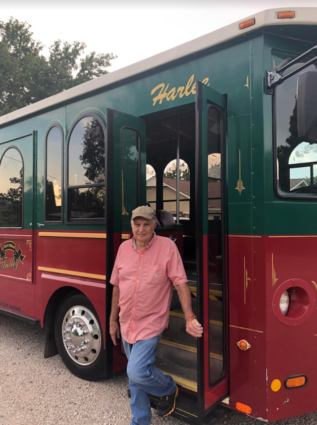 A little about Harlee and his namesake: My father, Harley Terry, is a Navy Veteran (1960-1965), and helped to build the first space shuttle at Rockwell International – all while raising his daughter – me! If you asked him which was more challenging – rocket science, or raising his daughter – I would be interested to hear his answer. ☺ He definitely thought I was nuts when I first moved into the transportation business, but he is very openly proud of everything I have accomplished, and proud of his daughter. So much of him has gone into this business (after all, he raised me!), so I am certainly sad to see Harlee go; however, we are both happy to see the that Harlee will continue to operate in such a fun way!
In the end, this goes to show that we are all about family here at Old Urban Trolley. I have both parents, and three sons that have blessed me with grandchildren. I have found that there is no greater joy than watching your own children parent! Seeing them love and care for their own tiny blessings is so rewarding, and I wouldn't miss it for the world. On top of that, Charles has two children and two grandchildren of his own, so we certainly have a lot of memories to make between the two of us!
I am so excited to continue spending time with you and your families on Charlee, Okie, Miss Lucy, and JOYJOY. Thank you for loving and supporting us over the years. Here's to many more!