April Showers Bring May Weddings & Flowers!
Seeing the daffodils bloom is a sure sign of the changing of seasons! Are you ready for Spring?
I have always been a summer gal, shorts, and sun dresses vs. layers of clothing for winter. I am thrilled to have normal times up on us again after the nasty big C. It is that time of year to be able to make new Spring memories for my upcoming brides and personally.
It is an honor to be part of the cherished memories of my clients. I love seeing the wedding couple before the ceremony then after as well. The wedding couple is blushing with excitement to finally be two hearts combined. There is so much excitement and special moments that happen during the big day.
Making my own memories this time of year can be bittersweet for me as I have HATED celebrating my birthday in the past. My husband Charles knew this, and he has always tried to make it a special day to me. With having a combined family of children and grandkids getting everyone together is hard. Many of our grandchildren are in sports and then the trolley schedule is a balancing act. Well this year we did it! And what a wonderful day it was! For me, the kids and grandkids being there is the real GIFT, someone committing their time to me is the most valued treasure ever!
I chose Pete's Place in Krebs, Oklahoma for dinner, so this even meant a little drive for all of us. Now, I say little drive, it is more like a lot. Well, knowing this, I decided to take the bus. Yes, the good ole JOY JOY bus. And me being who I am, decided it would be easiest to pick everyone up versus meeting at one location. So, Charles and I ventured to Jenks to pick up my dad then over to Taylor's Ferry at Fort Gibson Lake to get my mom. Then we started the round of picking up the kids and grands at their homes. It was truly so much fun! The grands got to spend some time together playing and chatting. It was the best Sunday in a long time. Thank you to my Charles, my parents, the kiddos, and grands for making my day so special.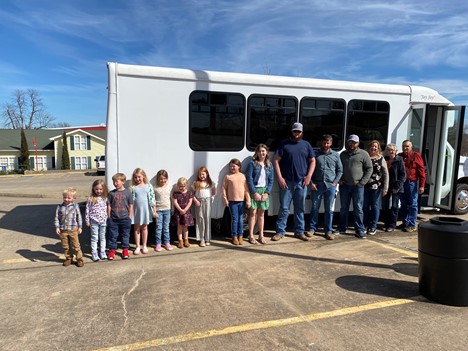 With that being said, we would love to be part of your memory making on YOUR big day! Our calendar is filling in quickly for this year and 2023 reservations have already started rolling in. Do not procrastinate can never be said enough. Reserve early for your transportation needs and wants.
We can transport the bride/groom, the wedding party and even out of town guests. We have a fleet of three vehicles, accommodating all your needs. No need to wait on Uber or Lyft, we can transport that family and they love it. Wedding's is a time of family celebrations, and they love seeing each other and having those little moments to chat and catch up just as my family was able to-do for my birthday.
The retainer to reserve is $200 and will go toward your balance. All our units are fully enclosed with heat and air conditioning. Give Shannon a call or text at 918-694-1156 or email shan@oldurbantrolley.com.
Looking forward to being a part of your special memories!
XOXO
The Trolley Lady