'Tis that time of year! I am a summer gal and love the sunshine. Sure, snow is pretty and can be fun for the kids, but I would rather have sunny skies and no snow. But as Oklahomans know, we can get all the elements in the same 24 hours sometimes.
So for Christmas in July, I have exciting news to share with you about our 2023 Downtown-Midtown Christmas Light Tour. I will be rolling out the TROLLEY for these tours this year!!! I have not done Christmas light tours in the trolley for the last few years. But I am bringing it back for this special occasion and here's everything you need to know about the Downtown- Midtown Christmas Light Tour.
Tours will pick up at the SE corner of HOME DEPOT at 901 S. Elgin in downtown Tulsa. NO, we cannot pick up at your house. Not even if you live downtown or in midtown.

Tour times are 6, 7:30, and 9 PM.

Tour length is 55-65 minutes.

Cost is $600.00.
Also, keep in mind the following:
NO FOOD or BEVERAGES.

You rent the entire trolley for your friends and/or fa

The whole trolley rental includes seating for 26-28 people. Please, DO NOT exceed 28 people.

Babies and toddlers: There are NO seatbelts: therefore, parents will have to hold their baby or toddler in their lap or bring a carrier type car seat and sit it in the seat next to them. Please keep your children seated and do not let them hang out the windows or swing from the poles. No monkey business is allowed on the trolley. Safety is of the utmost importance.

The trolley is fully enclosed and heated.

There are NO stops. Make sure you take care of any restroom business prior to getting on.

If Mother Nature is not so nice and we must cancel due to weather, all monies that have been paid will be refunded. This occasion will happen if it is snowing, raining, or cold temperatures of 35 degrees and below.
As in years past, Old Urban Trolley does offer a different tour. This is the South Tulsa Christmas Light Tour in our shuttle bus "Joy Joy." The South Tulsa route includes Jenks neighborhoods, South Tulsa neighborhoods, and Paragon Industries. Its details are as follows:
Tours will pick up at the Jenks Riverwalk at 500 Riverwalk Terrace in Jenks. Pick up is right by Andolini's Pizza.

Tour times are 6 and 8 pm.

Tour length is 70-90 minutes.

Cost is $450 plus a $75 cleaning fee if you have food or beverages.
Also, keep in mind the following:
Refreshments are welcomed on this tour. Drinks, cookies, and/or pizza: bring the yums! But NO POPCORN and NO HARD-SHELLED PEANUTS. Let's keep the circus out of the Joy Joy bus. There is a $75.00 cleaning fee if you wish to bring refreshments.

The Joy Joy seats up to 25 passengers and there are seat belts.

The bus is fully enclosed, heated, and air-conditioned.

Restroom breaks are possible. If you need a restroom stop on the South Tulsa tour, let the driver know. However, keep in mind this could take away from you seeing all that we have to show you. So, that call is all on you and your guests.

The only thing that could cancel this tour is a crazy amount of snow or extreme cold.
The deposit to reserve either tour is $250.00.
Call to reserve: 918-694-1156 OR email shan@oldurbantrolley.com
We are so excited to share these tours with you. The routes are planned so we can show you as much as we can in the allotted time. So, sit back with your family and friends, absorb the lights, the ride, the Christmas music, the peace, the beauty, and the joy of the season.
Merry Christmas to all…but until then, this summer gal says: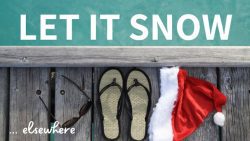 xoxo Trolleylady