It's LOVE MONTH here at Old Urban Trolley
One of the sweetest times of the year! So many couples get engaged around Valentine's Day, and we grow giddier knowing that some of them will end up spending time with us during their Big Day. It's such an honor to be a part of it.
One of my most treasured times when driving the trolley is seeing the newly married bride and groom just moments after saying "I do." They exit their ceremony site, usually surrounded by the clapping and cheering of their family and friends, and then they board the trolley. You can feel the love in the air. The energy. The happiness. The adoration. Those first moments as husband and wife are unforgettable, and we love that we have the opportunity to provide a few moments of uninterrupted calm for the happy tears, the giggles, the "we did it."
It really is bliss.
For those couples considering Old Urban Trolley, please call us quickly. Our wedding calendar for 2020 is booking up, and although we hate to turn couples away due to already being booked, it's starting to happen! We would love to provide transportation during your big day, so reach out ASAP.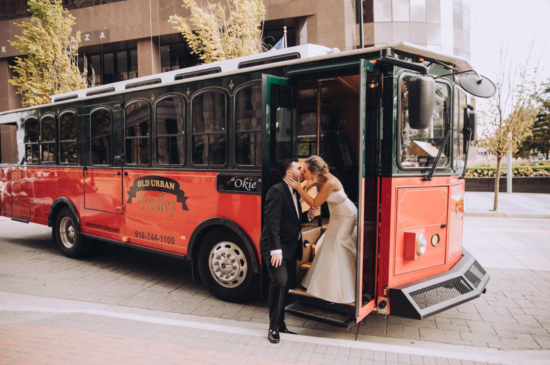 In addition to the excitement surrounding our new Valentines, we have started back up historical tours of Tulsa this month! We are holding tours the third Saturday of each month. February is already full, but if you would like to join us for the fun, book quickly for a later date!
You must purchase your ticket online in advance to reserve your spot. Tours are from 10am – 12pm, and pick up is at the Home Depot on 9th and Elgin. We love teaming up with Tours of Tulsa to put these together.
A little more about the tours:
"Return to the days when Tulsa was the Oil Capital of the World and streetcars filled Downtown Tulsa's cobblestone streets. Board a trolley at 9th & Elgin for a ride back in time through the 6 districts of Tulsa's historic downtown: Cathedral, Blue Dome, Brady Arts, Greenwood, East End Village and the famous Deco District. Trolleys depart from the Home Depot every Saturday, rain or shine, for a two-hour historical tour."
Don't miss out!
Have questions, or want to reserve a trolley for your event? Give us a call at: 918-744-1100 or fill out our form found here.