Happy New Year, trolley family!
We had SUCH a blast in 2019 with you all, and we cannot wait for what is to come in 2020.
SO many of you got engaged over the holidays. First and foremost, CONGRATULATIONS! We are so excited for you, and we would love to serve you + yours on the Big Day!
That said, it's incredibly important that, if you are planning a wedding in 2020 or even 2021, you start reserving your vendors as early as possible. They say that venues and photographers are the first wedding day partners that you should schedule – and that is totally true. But if you're considering Old Urban Trolley for transportation during your wedding day, please call us ASAP! We booked so heavily SO quickly in 2019, and we are anticipating, with the bookings we already have in, that 2020 is going to go just as fast.
We can transport you, your wedding party, and/or your guests from hotel to ceremony to reception. We even make planned photo stops if you or your photographer has a place in mind along the way!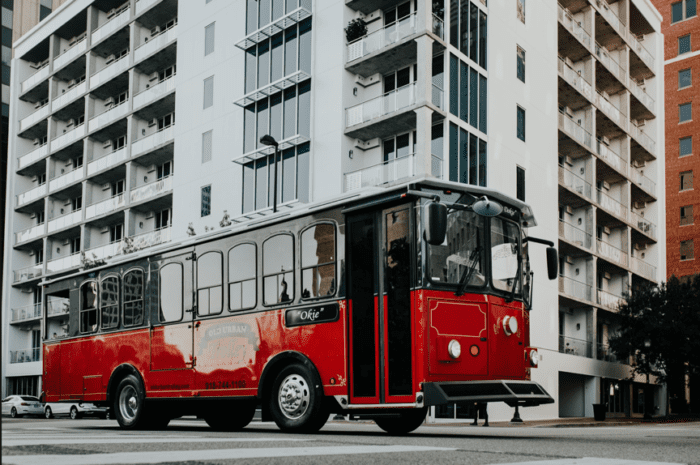 Additionally, if you're a newly-engaged couple, make sure to attend bridal shows, bridal conventions, and open houses! These are wonderful opportunities to browse vendor tables and meet the folks behind industry businesses that you have more than likely already seen on Instagram or Facebook. It's very easy to book several vendors in one clean swoop at these events, so don't miss out! There are some conventions that Old Urban Trolley will be providing transportation to-and-from, so make sure to stop by and say hello! We would love to meet you and congratulate you personally.
Interested in booking Old Urban Trolley for your event in 2020 or 2021? Give us a call at: 918–744–1100. We can't wait to hear from you!