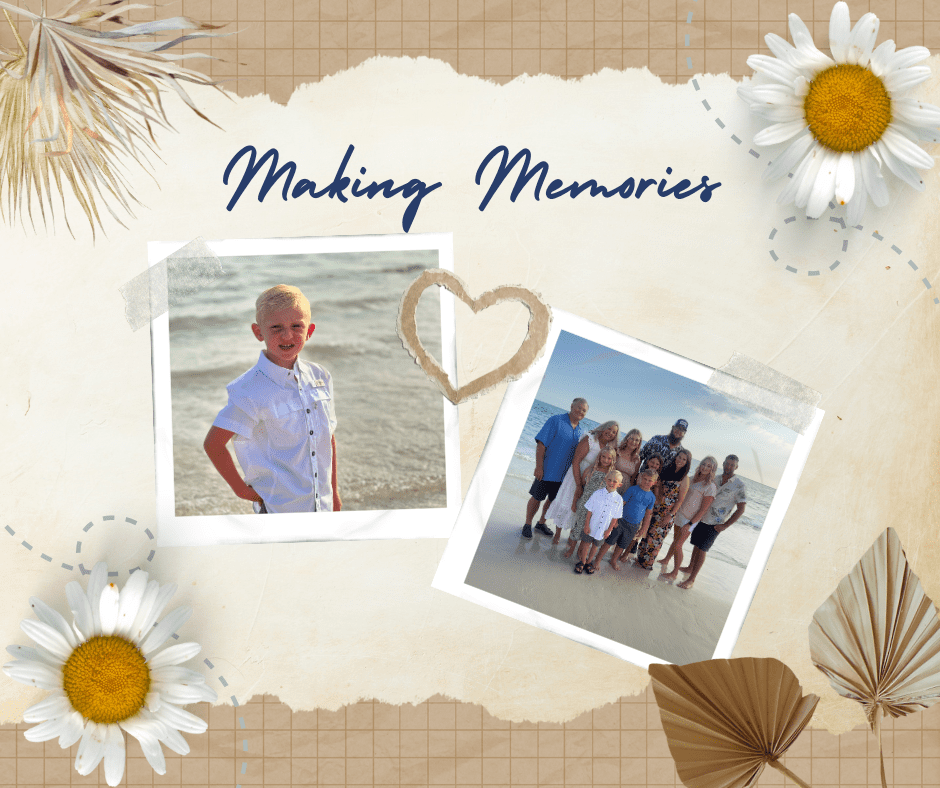 I was told this week; I should write a book about Okie the Trolley. Ooohhh, do I have a few stories I could tell! But don't worry, what happens on the trolley stays on the trolley. Lol. Looking back on the past 16 years, there have been many ups and downs. But, as you know, that is life! Everything you do, there will be highs and lows. Regardless of the good or the bad times, we are always making memories.
My husband Charles, "My Charles", and I have 5 kids together and 11 grandchildren. We have a large and very happy blended family. This makes December a VERY busy month for everyone. There are many Christmas parties and events happening throughout the month, with everything culminating in the many "Happy Birthday Jesus" celebrations on Christmas day. Like most blended families, the kids rush around trying to make it to everyone's houses on time. They must get their kids ready and make the drive to each house seeing the decorations at each house, eating amazing meals and treats at each house, opening gifts at each house. It can be a hurried and stressful time. So, I decided to start doing our family Christmas the Saturday after Christmas, simply to allow the kids more time with all their other relatives and with their own families. The Littles get things – new toys and games, and they want to play with them, not open them, then put them away to go to someone else's house. So, it just made sense to move our Christmas and take some of the pressure off our kids. Our family Saturday Christmas has worked great for us!
But a couple of years ago I decided I wanted to make memories with my children and my grands. So, My Charles and I held a paper vote with the kids to see if they would be interested in having a memory making trip each year, a Christmas in July. This meant Charles and I would pay for a house to accommodate all of us. Then we could spend our Christmas in July making fun memories and bonding. To me, it just made more sense to make memories instead of buying mail order junk that will be in the trash eventually. And kids do not want clothes for Christmas! Well, unless they are teenagers. Anyhow, the grown kids had to vote "yes" or "no" for Christmas in July and if they voted "yes", give us ideas on where to go. They all enthusiastically voted "YES" with many suggesting Florida. Thus began our Christmas in July Memory Making trips.
We just got back from Miramar Beach, Florida. Our house was perfect, and we had the greatest time! Many memories were made, ice cream was eaten, adventures were conquered, and we even saw some alligators. Or as my youngest grandson said, "LYLE LYLE CROCODILE!" Lol! While we still gather the Saturday after Christmas for dinner and games, these family trips and the memories made during them have become priceless. Family matters and making those memories are important.
As we roll through these whopping 100-degree days of August, the emails and reservations are coming in for Christmas light tours, celebrations, and parties. I cannot express to you how much it means to all of us at Old Urban Trolley when you choose us to make lasting and precious memories with your colleagues, friends, and families.
This year, I am bringing Okie the Trolley back for an INCREDIBLY special tour of midtown. The trolley will only be doing the midtown tours. The Joy Joy bus will be doing tours from the Jenks Riverwalk.
Here is everything you need to know about the 2023 Downtown-Midtown Christmas Light Tour.
Tours will pick up at the SE corner of HOME DEPOT at 901 S. Elgin in downtown Tulsa. No, we cannot pick up at your house. Not even if you live downtown or in midtown.

Tour times are 6, 7:30, and and 9 pm.

Tour length is 55-65 minutes.

Cost is $600.
Also, keep in mind the following:
NO FOOD or BEVERAGES.

You rent the entire trolley for your friends and/or fa

The whole trolley rental includes seating for 26-28 people. Please, DO NOT exceed 28 people.

Babies and toddlers: There are NO seatbelts: therefore, parents will have to hold their baby or toddler in their lap or bring a carrier type car seat and sit it in the seat next to them. Please keep your children seated and do not let them hang out the windows or swing from the poles. No monkey business is allowed on the trolley. Safety is of the utmost importance.

The trolley is fully enclosed and heated.

There are NO stops. Make sure you take care of any restroom business prior to getting on.

If Mother Nature is not so nice and we must cancel due to weather, all monies that have been paid will be refunded. This occasion will happen if it is snowing, raining, or cold temperatures of 35 degrees and below.
As in years past, Old Urban Trolley does offer a different tour. This is the South Tulsa Christmas Light Tour in our shuttle bus "Joy Joy." The South Tulsa route includes Jenks neighborhoods, South Tulsa neighborhoods, and Paragon Industries. Its details are as follows:
Tours will pick up at the Jenks Riverwalk at 500 Riverwalk Terrace in Jenks. Pick up is right by Andolini's Pizza.

Tour times are 6 and 8 pm.

Tour length is 70-90 minutes.

Cost is $450 plus a $75 cleaning fee if you have food or beverages.
Also, keep in mind the following:
Refreshments are welcomed on this tour. Drinks, cookies, and/or pizza: bring the yums! But NO POPCORN and NO HARD-SHELLED PEANUTS. Let's keep the circus out of the Joy Joy bus. There is a $75.00 cleaning fee if you wish to bring refreshments.

The Joy Joy seats up to 25 passengers and there are seat belts.

The bus is fully enclosed, heated, and air-conditioned.

Restroom breaks are possible. If you need a restroom stop on the South Tulsa tour, let the driver know. However, keep in mind this could take away from you seeing all that we have to show you. So, that call is all on you and your guests.

The only thing that could cancel this tour is a crazy amount of snow or extreme cold.
***I just want to reiterate the only thing that stops us is ice, below freezing temps, or a HEAVY snow. If we cancel due to unforeseen circumstances such as Mother Nature, any and all monies paid including the retainer will be refunded. Of course, we want to reschedule you but, if that cannot happen you will receive a full refund.
The deposit to reserve either tour is $250.00.
Call to reserve: 918-694-1156 OR email shan@oldurbantrolley.com
We are so excited to share these tours with you. The routes are carefully mapped out so we can show you as much as we can in the allotted time. So, sit back with your family and friends, absorb the lights, the ride, the Christmas music, the peace, the beauty, and the joy of the season.
I'm not looking forward to the cold weather. I love the summer sunshine too much. BUT I am so excited to help you make precious memories with those you love.
xoxo Trolleylady!