This lady got married! Charles and I have dated for six years, as of August 13 (yes, August 13th was Friday the 13th) and now counting the years of our marriage begins.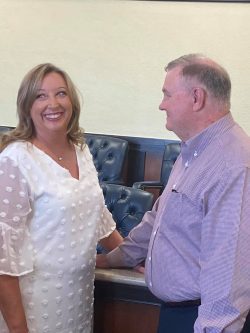 No fear for us, yet my sweet childhood friend that stood by my side had a car accident on the way to the courthouse. I hated that for her, but so glad everyone was okay. She made it to the courthouse in time via police car. We have all laughed about that so much.
We can never thank our friends enough for being by our side for our big day.  Todd Ward, you are a brother to Charles. Vicki Metzler, you are my childhood friend. Yes, I have known her since the 4th grade and our Dad's still live next to each other.
Why a courthouse wedding?  Well, both being in our 50s, we just felt that at this age and point in our lives that this option worked best for us. We are now a blended family of grown kids and 11 grandchildren. We wanted, short and simple, but trust me, when the Judge started I stopped in a panic.  I said "WAIT!" pretty much yelled it in a crackled voice.  You should have seen the look on everyone's face.  I am sure my face said plenty as well.  I am not sure what I expected but, it was just quick, lol! We continued and well, we're married now.
Thank you to Junior, Jacob, Jared, Shelby and Brittany for accepting Charles like you have. And Thank you Brian, Samantha and Haley for accepting me into your life. We love you guy's with all of our hearts and truly just want everyone to be happy.
New Changes
Light tour reservations are rolling in, but this year is a little different than the past.  We will have no more TROLLEY Light Tours, but Light Tours this holiday season will only be via our JOYJOY bus, our passenger bus with the comfort and JOY for all.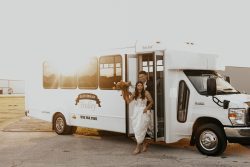 JOYJOY bus is 25 passenger with seat-belts. The cost per rental is $350.00 plus gratuity of 15%. There is also a $75.00 cleaning deposit. You will receive the cleaning deposit back if there is no trash, spillage or nasty gum stuck anywhere it should not be. There are 2 trash cans and antibacterial wipes in the unit.  No, I am not asking you to clean it, I am only asking you to be respectful of the unit and guests that may come in for a tour after you that night.
Tour times are 6 and 8 PM, tour length is 70-90 minutes. The unit is decorated inside for Christmas and we do play Christmas music.
Pick-up for the Southwest tour is the Jenks Riverwalk Crossing at 300 Riverwalk Terrace. This tour includes Paragon Pipe (just as many lights as Rhema, but completely different), Jenks neighborhoods, Glenpool, and Bixby neighborhoods.
Pick-up for the South Tulsa tour is Kohls at 9595 S Delaware Ave. Bixby neighborhoods, and South Tulsa neighborhoods. We no longer go to Rhema.
If we cannot service you due to mother-nature being not so nice (ice), everything paid toward the tour including the deposit will be refunded.
No popcorn or shelled peanuts are allowed.
Down-sized Fleet
I truly took a positive from the pandemic and decided it was time to downsize the fleet. My goal is to be able to spend more time with my family and not miss any more special events. With that being said, early reservations are key. The fleet is now one Trolley, one bus, and one suburban. Please inquire about pricing and availability for your upcoming event. 
Happy Fall Y'all,
Xoxo Trolleylady aka Shannon Palmer