It's Christmas in July here at Old Urban Trolley!
One of our favorite traditions is to share with our guests the most elaborate and impressive residential and business decorations during the holiday season with our Christmas light tours! They are roughly an hour and a half long.
Seats generally fill very quickly, so if you have a date in mind for yourself, your family, a group of friends, or your company, book soon! We hold tours every day of the week, with tour times in the evenings from 6:00 – 7:30 and 8:00 – 9:30.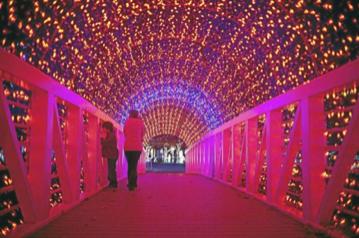 Our Christmas light tours are $20.00/person. Lap children aged 2 and under ride free! You also have the option of renting the entire trolley for a tour for $400.00 + gratuity for the driver. We also love to share in special events, corporate parties, and more.
If you are interested in exploring town with us during the holiday season, keep checking back on our Facebook page this month! We will post our Christmas in July promotion soon. Book quickly so that we do not miss out on an evening of fun with you and yours! We look forward to enjoying these beautiful holiday light tours with you.